2019 Winter Meeting Call for Sessions, USGS Spatial Feature Registry – we want your ideas, Pydap revival, and a challenge highlight!
ESIP Lab Update: October 2018 
Highlights from your favorite virtual Earth science tech lab.
Happy Autumn! It's been a busy fall thus far. I had fantastic experiences at the West Big Data Innovation Hub All Hands Meeting and the NumFOCUS User Forum. Both groups were keenly interested in more direct engagement with the Earth science data community. 

In ESIP-wide news, we're happy to announce the call for sessions for the 2019 ESIP Winter Meeting – we look forward to seeing you all this January in Bethesda!

Lastly, a new class of ESIP members has been posted here – please provide any comments to staff@esipfed.org.

Annie Burgess
Director, ESIP Lab
REMINDER: Want to join in? Check the ESIP telecon calender here – collaborate, listen and learn!
Ideation Challenge: Building a SpatioTemporal Feature Registry
USGS is building a National Biogeographic Map, which requires a reliable data source with a wide variety of identified places. These places need to be assembled in a sustainable and robust way that keeps track of provenance and processing steps to ensure derived reports for decisionmakers are trustworthy and consistent. To facilitate conversations around how best to build this system, USGS is seeking community input through an
ESIP Lab idea campaign
.
Key Design Principals: 
1. A feature within the SpatioTemporal Feature Registry (SFR) is a real-world place with spatial and temporal properties.
2. Don't think of this as a database of features. Think of it as a set of community-contributed open codes that do work to integrate and synthesize features for many uses.
3. A feature's data source must be referenceable and accessible with software code.
4. Semantic methods will identify and expose associations between features beyond spatiotemporal proximity-type relationships. A challenge will be how to balance a distributed and possibly transient data system with the need to build, store, and serve relationships discovered dynamically between heterogeneous endmembers.
5. It would be useful to build at least one 'master index' to make everything discovered searchable through an API that people can build on.
Lab Highlight: Pydap Revival
As part of the ESIP Lab collaboration with NumFOCUS to support a Small Development Grant, there has been a revival of interest and activity [1] to review/revive Pydap governance, development, maintenance and related workflows in sustaining the Pydap community.
As an initial step, the group has set up a Gitter chatroom [2] to facilitate discussion/chat.  Note that the room is open/public and anyone can join (you need a GitHub / GitLab / Twitter auth to sign in to chat).
[1] https://github.com/ESIPFed/NUMfocusFallDev/issues/3
[2] https://gitter.im/pydap/pydap
Does everyone know ESIP has an Ontology Repository?
ESIP members wanted a simple repository that would let users try out semantic technologies, understand their benefits, and explore possible applications that used semantic resources. The Community Ontology Repository (COR) is a deployment of the Marine Metadata Interoperability (MMI) project's Ontology Registry and Repository software, meant specifically for use by ESIP and the Earth Science community.
How do I try COR?
Using COR is simple, and it's there for the Earth science community to test. Go to the COR website, register (if you don't have an account), and click the "Add vocabulary" button.
Challenge Highlight: Next Generation Animal Tracking Ideation Challenge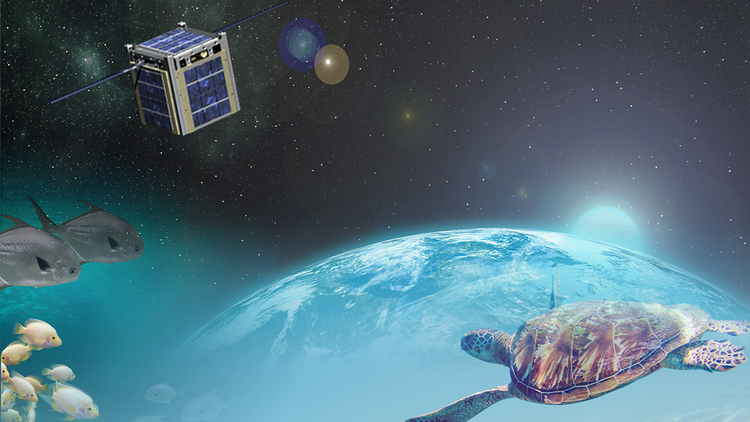 This challenge is seeking ideas and concepts that incorporate SmallSat/CubeSat technology along with other space, stratosphere, land, and/or water surface systems to improve upon the current system of data reception for tracking animal position and path movement.  This ideation challenge is the first in a possible series of challenges addressing Next Generation Animal Tracking. Submissions to this Challenge may be used as input to future challenges anticipated to focus on technical solutions for an open system architecture and software integration.
Learn how to participate here.
https://www.esipfed.org/esip-lab
Questions/comments? Reply directly to this note or email us at lab@esipfed.org
Keep up on all the action on Slack! If you are not already on the ESIP Slack team: here is your INVITATION.  If you are on Slack, are you using the Slack App? It's a much better GUI. Grab it HERE. 
ESIP is funded with support from NASA, NOAA, and the USGS. 
Copyright © 2018 Earth Science Information Partners, All rights reserved.
 You are receiving this note because you subscribed to one one of the ESIP list-servs.
unsubscribe from this list    update subscription preferences