FUNding Friday: Microfunding Marker Magic
Curiosity and openness are core to the Earth Science Information Partners (ESIP) community. One of the more playful initiatives at ESIP is a microfunding competition called FUNding Friday. Here are the 2023 projects plus short write ups from each.
The 2023 July ESIP Meeting was held in Burlington, Vermont. Every year, participants in FUNding Friday gather at a local eatery to come up with ideas, draw their inspiration, and write their pitch.
"Two minutes. That's it."
A crowd has gathered in the farthest ballroom. Coffee and breakfast muffins in hand, each meeting attendee also holds two slips of paper – their ballots. 
Larger and even more colorful papers, poster-sized, line the walls. The art and words are all hand drawn. A quick survey: A sketch of a normal fault outlined here; shockingly perfect penmanship there; bright, bold drawings glued on another poster. 
The mic trades hands and the crowd turns to the first poster.
This is the starting scene of the FUNding Friday competition at the July ESIP Meeting in Burlington, Vermont. It's not the usual professional society vibe. Yesterday's powerpoints and blazers have been discarded for marker art, a wireless microphone, short pitches, and clever ideas. 
The lively and beloved microfunding event has two parts. On Thursday night, FUNding Friday competitors gather at a local eatery and draw, sketch, craft, write, and glue their pitch ideas onto poster paper. It's like napkin science – multiplied by a giant sticky note. Then at 8 a.m. sharp on Friday morning, the competitors present their posters with a two-minute pitch. The audience votes for their favorites in two categories: teachers + students and regular attendees. 
All the FUNding Friday projects are rooted in a simple, powerful idea. That our serious, data-driven community needs to save space for small, delightful ideas.
Microfunding is an important mechanism for fresh takes and refreshing research. In the broadest sense, ESIP's community is dedicated to solving the planet's greatest challenges. But it is the small steps, creative ideas, and seeds that keep us rooted in actionable data. 
Here are this year's winning FUNding Friday projects. Each section includes the group's poster and a short write up crafted using the UpGoer Five text editor (that only uses the 1,000 most common English words). 
"A Jupyter Hub for Indian Marine Biologists and Oceanography" | PI: Eli Holmes

"Community Science Education Program (CSEP)" | PI: Vicky Gorman

"H.O.P.E. – History of People of ESIP" | PI: Wade Bishop

"ESIP.local" | PI: Sruti Modekurty

"Smoke and Wildfires: Data Scavengers!" | PI: Lisa Kihn

"The Missing Middle" | PI: Elizabeth Adams
A Jupyter Hub for Indian Marine Biologists and Oceanography
Researchers studying the Indian Ocean can benefit from technical tools.

The plan: 70 early career Indian and African scientists, 10 days of hacking, 10 new projects on the ocean climate change in the Indian Ocean.
Eli Holmes, Nimit Kumar, and James Munro
beautiful water as far as you can see
getting warmer and warmer
animals move to find colder water
will we have food to eat from this warmer water?
what will we do
let's find what the animals like
by looking at where we see them
and where they go
let's learn together!
what will warmer water mean for animals and people?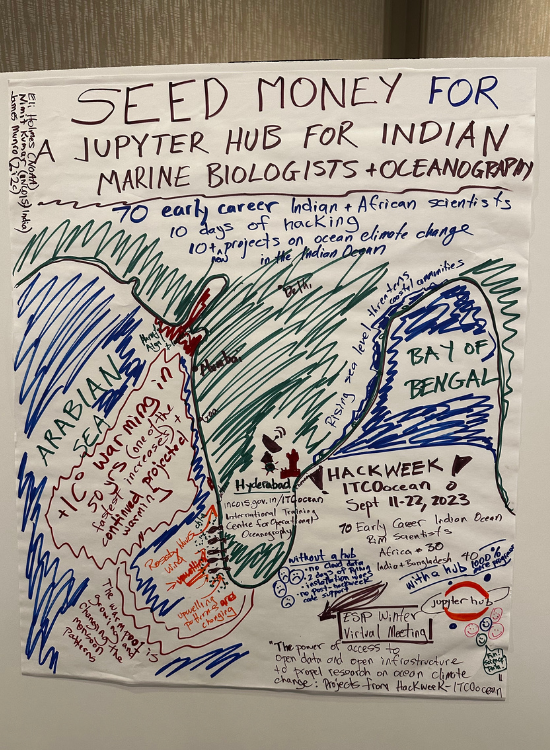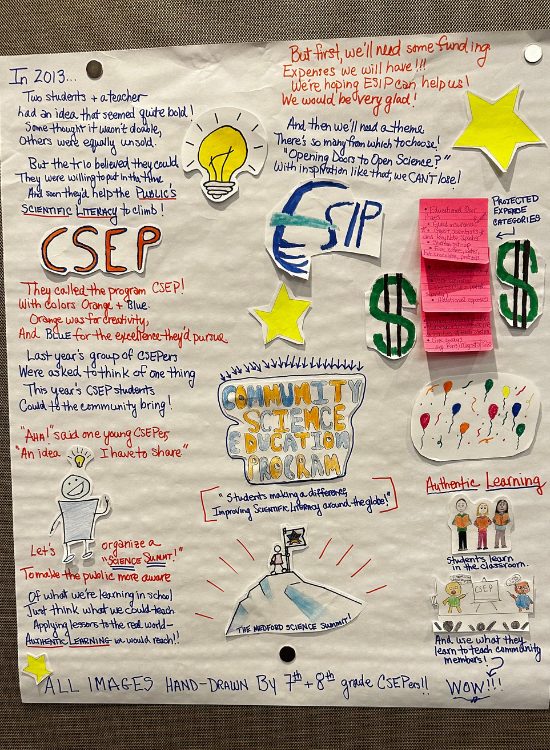 Community Science Education Program (CSEP)
Public scientific literacy is not top-down; broader understanding can be improved by students.

The plan: A student-hosted Science Summit.
Vicky Gorman
Middle school students will use their brains and voices to better the brains and voices of other humans about things that happen in the world. The students will explain everything in their own words and make it easy for the other humans to understand. The lives of the other humans will become more exciting because of the things they will learn.
H.O.P.E. – History of People of ESIP
ESIP celebrates its 25th Anniversary in 2023.

The plan: work with student journalists to capture oral histories and stories from ESIP community participants.
Wade Bishop
The HOPE job is to catch the story of the people and stuff that make this group what it is. The world always needed our help. This year, let us look back into the past to see all we have done, how we got here, and also look forward in time to what else may be possible.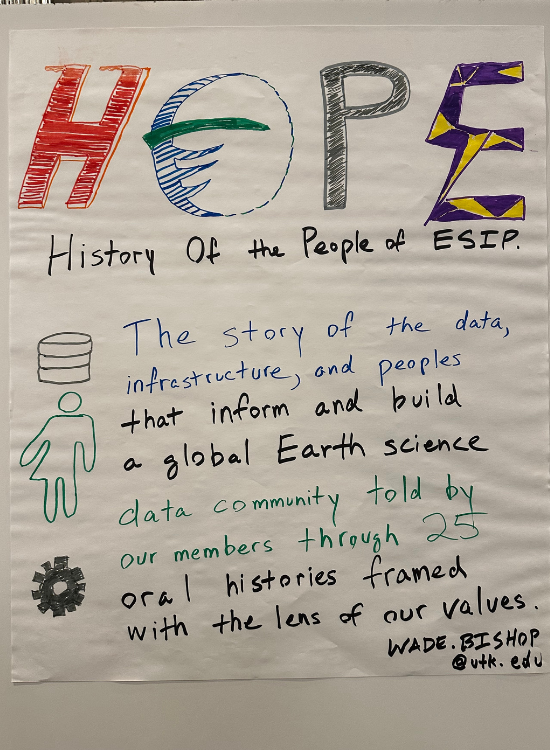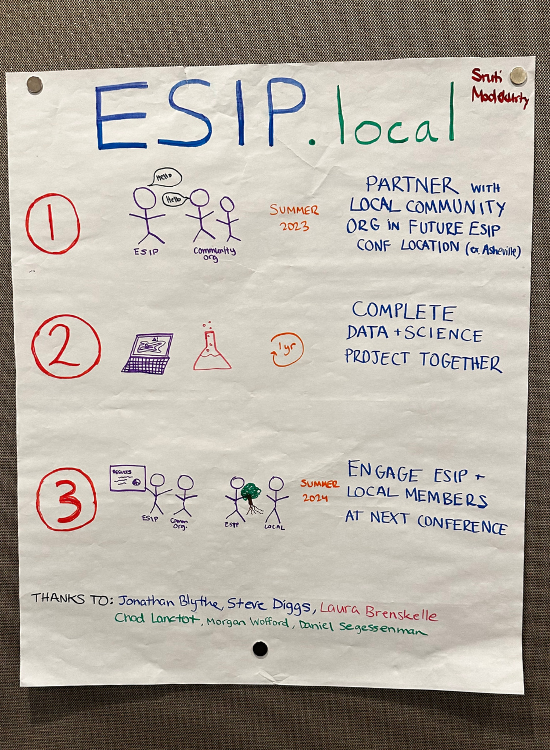 ESIP.local
The 2024 July ESIP Meeting will be held in Asheville, North Carolina.

The plan: Connect with local organizations to root our community in place next summer.
Sruti Modekurty
Over the next year we will work together with a group of people in need. While learning from each other we will start to understand how numbers can help fix problems and how they can't. Together, we will present the work at the next meeting and share with others everything we have learned.
Smoke and Wildfires: Data Scavengers!
Students can learn data literacy by actually interacting with wildfire data tools.

The plan: Create lesson plans for data collection, integration, and presentation.
Lisa Kihn
Imagine a class where kids learn about our world. Students bring together facts about air and fires from their own work and from other studies. They learn how to understand what they are seeing to share with others. It's all about presenting how to share learning about our world!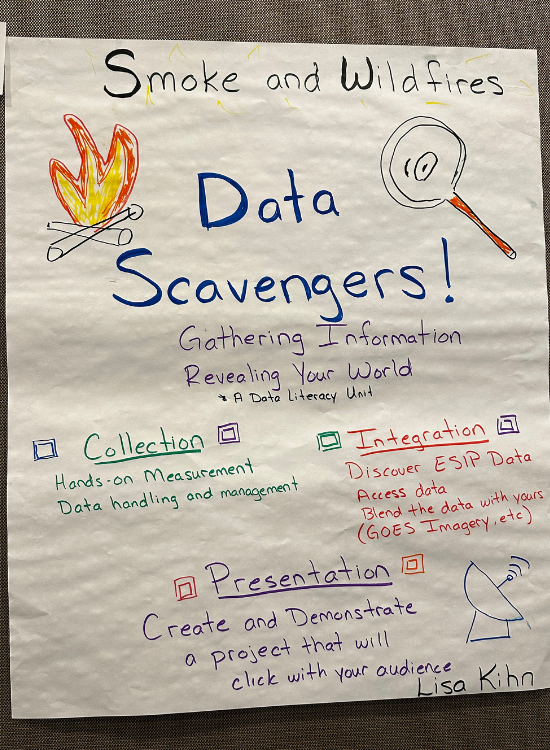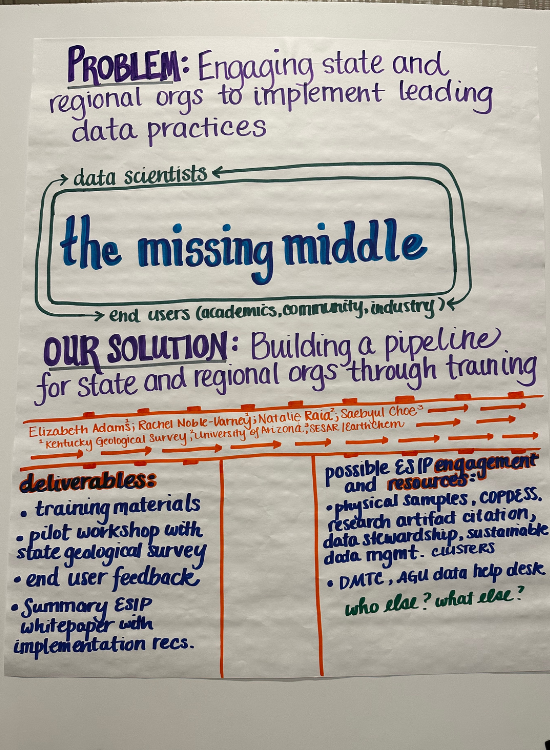 The Missing Middle
State agencies need a stronger voice in the Earth science data community.

The plan: Build a pipeline between data scientists and end users that pulls in state and regional orgs.
Elizabeth Adams, Rachel Noble-Varney, Natalie Raia, and Saebyul Choe
We will share ideas with friends to excite and lead them and ask for ideas about our approach. A paper will be written to look back on the ideas given about this time and moving forward.
Allison Mills wrote the article intro and each PI wrote their section of plain language summaries using the Up Goer Five text editor. Annie Burgess edited the piece. The blog was provided ahead of posting to all the awardees' organizations as well.
ESIP stands for Earth Science Information Partners and is a community of partner organizations and volunteers. We work together to meet environmental data challenges and look for opportunities to expand, improve, and innovate across Earth science disciplines.
Learn more esipfed.org/get-involved and sign up for the weekly ESIP Update for #EarthScienceData events, funding, webinars and ESIP announcements.​